It's Wednesday, and time for a new Watercooler Wednesday challenge. We've changed things up a bit and now have a more general Holiday challenge rather than specifically Christmas. The team seem to have stuck with Christmas cards this time around though! If you decide to play along remember that you can make any Holiday project you choose!
I wanted to make a one layer card for my design and I actually based it somewhat on a card I'd previously made. I started by stamping my Moose, from Paper Smooches' Chubby Chum Pals, then added a Christmas hat to him and masked both off. I then stamped the Christmas tree from Simon Says Stamp's Christmas Squad and added a mask to that too.
I used post-it tape to mask off the top and bottom portions of my card before ink blending with Catherine Pooler inks in Tutti Frutti and Limoncello.
Once I was happy with my blending I removed all the masks and started colouring my images. I had stamped everything with MFT Black Licorice Hybrid ink which is alcohol marker friendly, and used my Spectrum Noir Illustrator markers to do the colouring.
I went with dark green for the tree, with a yellow star, and brown for the moose. I decided to forgo the traditional red for the moose's hat and instead went with blue. I also used the blue for the baubles on the tree. I used a light creamy colour to add shading to the white trims on the hat.
The final element on my card was the sentiment, which I white heat embossed onto the ink blended strip.
I'm really pleased with how this card came together. I love the bright, bold background from the ink blending, and the masking really adds great dimension to the one layered card. I had thought about adding googly eyes to the moose but didn't end up doing it in the end. I think it would have been a fun touch, even though I like them without. Do you think I should have added them?
Love,
Lady Joyful
Challenges included:
Christmas Crafts All Year 'Round – Tree
Crafter's Castle – Anything Goes and Optional: Christmas In July
Crafty Gals Corner – Christmas In July
Craftyhazelnut's Christmas Challenge – Anything Christmas and Optional: Use Some Red
HLS Christmas Challenge – Anything Goes
Paper Smooches – Christmas in July 
Simon Says Stamp Monday – Christmas In July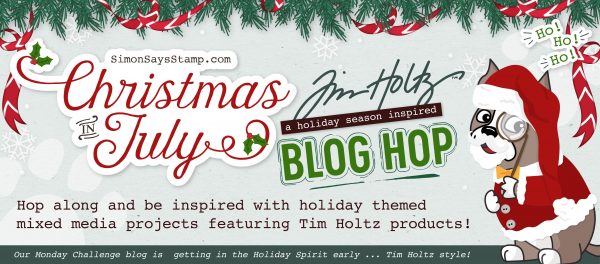 Watercooler Wednesday – Holidays
…………………………………………………………
Check out what the rest of the DT made:
Charlotte (that's me!)