Today I'm sharing five cards I made with the fantastic Spring Friends kit from Skull and Cross Buns. It's out very first kit, so extra special! If you missed the unboxing of the kit you can find it here. This video is also part of the Easter craft-along, which is an Easter-themed collaboration between several crafty YouTubers. You can find all the information on that in the description box of my accompanying video over on my YouTube channel.
Card 1 – Happy Hello
For my first card I decided I would focus on the patterned papers. I started with the pink card base and added double-sided tape to the lower portion, then adhered the pastel chevron patterned paper over it and trimmed off the excess. I then cut a panel of the pastel icon paper and matted it on purple paper from my stash. I used a strip of the same purple paper to border the chevron panel.
I stamped my chosen sentiment onto some white card using the Versafine ink that came in the kit. I then trimmed the white panel down and matted that on the same purple card. I used an off-cut of the white to back my chick embellishment. I adhered my panels to the card base, then added the chick over-top.
Challenges:
Craftyhazelnut's Patterned Paper Challenge – Use Patterned Paper
Kat Scrappiness Challenge – Pastels
Mojo Monday – Sketch
The Cutie Pie Challenge – Fresh Beginnings
Card 2 – Hoppy Hello
I decided to go more clean and simple with my next card. I cut a panel of white and stamped a row of three of the rabbits from the stamp set, using MFT Black Licorice Hybrid ink. I then coloured them in with my Spectrum Noir Illustrator markers, before stamping my sentiment underneath with the Versafine. Originally I was planning on adhering the panel directly to the card base but instead I decided to mat it on the dotty patterned paper first. I gutted the patterned paper so that I could keep some of it for future use. I then used double-sided tape to adhere it all together.
Challenges:
Addicted to Stamps and More – Make Your Mark
Fun Friday – Clean and Simple
Fusion – Sketch
Card 3 – Spring Wreath
For my third card I again went with the brighter colour scheme. I layered two panels of patterned paper (again gutting some of the back most piece), and edged the front one with Sunshine Yellow pinstripe peel-offs from Love From Lizi. I then set that aside and worked on my focal panel.
I used my Gina K Wreath Builder to stamp a wreath using the flower and leaf elements from the stamp set. I then die cut the wreath with a circle die and quickly coloured the wreath with my Spectrum Noir Illustrator markers.
I wrapped some of the variagated twine that came with the kit around my background panels, then applied foam tape either side so that I could attach the wreath panel over the top. I stamped a sentiment and added that to the wreath area, edging it with the yellow peel-offs. I then used foam tape on the back of the main panel to pop it up on my card base.
Challenges:
Allsorts Challenge – Blossoms, Butterflies, Bugs
Fabrika Fantasy – Flowers Galore
HLS Anything Goes With Dies Challenge – Use Dies
Moving Along With The Times – Spring Feeling
Simon Says Stamp Monday – Beautiful Blooms
Simon Says Stamp Wednesday – Spring Mood Board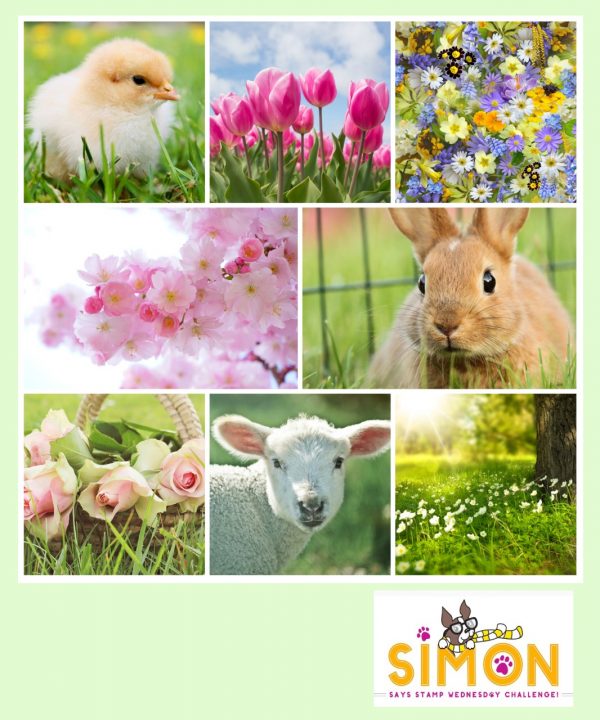 Simon Says Stamp Work It Wednesday – Spring Flowers
Try Stampin' On Tuesday – Sketch
Card 4 – Easter Eggs
For my fourth card I made a focal panel using the embossing with stencils technique, which I've previously shown here. After embossing the panel I also ink blended through the egg stencil with Squeezed Lemonade and Wild Honey Distress Oxides to add colour to the eggs. I used some of the twine to add tassle-like ends to the panel. I stamped and cut a banner sentiment and adhered it to the panel, which I then popped up with foam tape on my card base to which I had added a patterned paper background panel.
Challenges:
Mod Squad Challenge – Use A Stencil
Polkadoodles Craft Challenge – Anything Goes
Try Stampin' On Tuesday – Sketch and Optional: Embossing
Card 5 – Easter Chicks
For my final card I took a snippet strip of white card and stamped five chicks onto it with the help of my MISTI. I stamped four evenly spaced starting at the top, then the fifth with an equal gap at the bottom, so that the space between the fourth and fifth chicks was slightly larger than the rest. I coloured the chicks with my Spectrum Noir Illustrator markers and then added interest to the edge of the panel by trimming it with wavy bladed scissors. I adhered some patterned paper to my card base, popped up the chick panel over the centre, then stamped a sentiment on a small white snippet which I then added over the space between my last two chicks.
Challenges:
CAS(E) This Sketch – Sketch
Crafty Gals Corner – Easter
Creative Confetti Challenge – Think Spring
TCP Tuesday – Spring
Papercraft Challenge – Anything Goes and Optional: Easter
……….
I really enjoyed making these cards. I tried to make them all have an Easter feel but also with the option of being non-Easter cards. The first, for example could work as a baby card. Cards four and five are more Easter themed, especially with their sentiments, but the concepts could be adapted to other types of cards. Don't forget that this is part of an Easter collaboration. Be sure to head over to YouTube to see what the other participants have to show you!
Love,
Lady Joyful
P.S., use code HOPPYEASTER to save 35% on your order over Easter weekend. Or if Easter has already passed, you can use code DESIGNTEAM when you purchase from Skull and Cross Buns to save 10% on your order!
*Affiliate links may have been used in this post. For more details on affiliate links as well as other ways to support me, visit this page.*